Qlik Governance Risk Compliance Software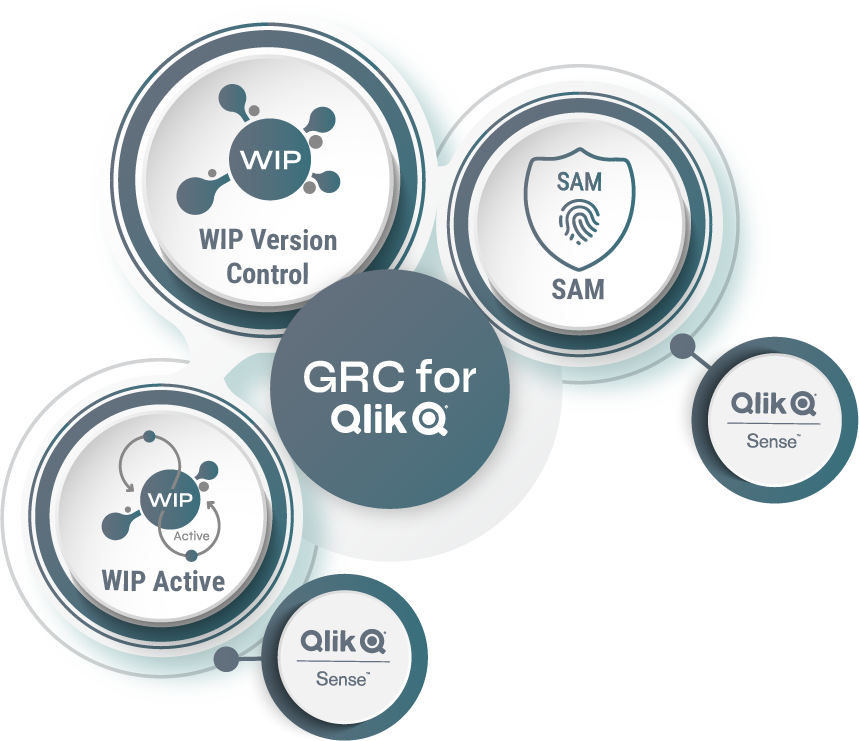 Qlik Governance Risk Compliance
Comprehensive Qlik version control, version management and change management solution

Quickly find Qlik latest version deployed per environment
Full support for Qlik application versions, extensions, mashups and dependency management
Rich metadata search on files, expressions, variables, users and more
Agile board packages, releases and publication management
Workflow controlled publications and escalations
Instant restore / roll-back
Capture, monitor and control agile Qlik version control and change requirements
Supports single or multiple developers on a single Qlik application version
Automate Qlik version management of connections, variables, tasks and other dependencies
Qlik version control comparisons on any versions, impact analysis, publication history and application script quality management
Integrated to Qlik QMC and Qlik API's for automation
Extend Qlik Version Control with Qlik Data Security Automation and Qlik Active Version Control automation.
Qlik Version Control Features
Automated data security for Qlik Sense & Qlik Cloud

Automated across Qlik servers, streams, users, applications

Automated stream level  Qlik section access security access management

Self-service data level security access management

Reverse engineers existing (standard) Qlik section access or flags the section access for review (non standard)

Instant user on/off-boarding to and from applications

Application license activation/deactivation

Risk management through identification of applications with Qlik section access which are not controlled by Section Access Manager for Qlik Sense & Qlik Cloud
Multiple Qlik servers, streams, applications, users

Spontaneous "X" defined minute interval backups
Control Qlik backups retention policies for development (WORK) and published applications

Instantly restore latest Qlik application versions and assets such as sheets, stories, master library items, bookmarks etc.

View Qlik version history of all restores
Qlik Governance Apps for detailed backup and restore analysis
Qlik Integrated Value Add-Ons:
WIP Agile Board

Digital agile board to manage requirements, tasks, developer workload and collaboration throughout their lifecycles

WIP Agile Board JiraSync

Jira integration to WIP Agile Board syncronising projects, backlogs, tasks & subtasks, users etc.
We
Love
problem statements!
Qlik Source Control:
We need to control development change control, who did what and when

We need visibility on impact when planning source to target changes

We need to assess development change comparisons

We need to manage quality of application code and standards

We need to know the health and growth of our environments and assets

We need to ensure QA testing before Production publication

We need to control publication processes

We need to manage packages throughout the development lifecycle

We need automated version management

We need to know which application version has been deployed

We struggle to manage deployments between servers and environments

We need to control versions of BI assets such as extensions, tasks, content and other dependencies

We need to control versions and comparisons of all files not only application files

We need to know when admins need to act

We need to share common standards and knowledge
Qlik Section Access Manager
We are facing a lot of employee churn which leads to a lot of section access requirements leading to access delays and errors

We need to control section access code for applications?

We need to ensure section access code implemented according to Qlik standards

We need a self-service data owner NoCode section access solution for business/standards

We need to instantly apply section access to all our applications

We need to know exactly who has access to which applications and which data?
Qlik Active Backup
Qlik Sense does not have a backup solution. Our backups are daily and too costly to restore everyone's work for one error that may have taken a whole day's work to achieve and requires rework.
We have a lot of rework related to our development processes. People make mistakes and mistakes are costly. Rework is waste we can't afford. It would be great to restore the work or part of the work when mistakes and corrupted files present themselves. Our regulations/IT require controlled retention policies for Qlik Sense.
Regulations (standards, audits, ICT policies) requires us to backup and restore our work

We only have daily backups of the total repository, this does not assist with daily development errors leading to rework

We need to control rework waste

We want to restore a certain asset not the whole application (sheet, story, measure etc.)

We need to comply with retention policies

We need to control data access risks instantly
Please enter your problem statements below and send them to us for a formal response: